Adult Spiritual Development
Opportunities at USG for Adults of All Ages
The Adult Spiritual Development Committee of USG is committed to offering a variety of programs that deepen and broaden the range of spiritual practices in our congregation. ASD seeks to promote offerings that engage the heart and stimulate the intellect and create opportunities for USG members to share their talents and wisdom, as we strengthen the bonds of our Unitarian Universalist community. Come to whatever interests you. No registration, no fees, no deadlines, no commitments.
View this week's SPIRIT newsletter with up to date program information.
Dialogue on Tuesdays
(Previously known as Meditation and Dialogue)
This group uses dialogue as a means for self-exploration. Dialogue is different than formal or informal conversation, in that it requires the capacity to listen deeply and ask fundamental questions. In dialogue, we are primarily focused on expanding our awareness and growing in self-knowledge. This group is inspired by the revolutionary work of David Bohm and Jiddu Krishnamurti. Using the dialogue format, we explore many of their insights. Typically, we begin the evening with a centering activity, then we read a short prompt and move into dialogue. Tuesdays 7-8:30pm. For more information, contact Jason Bender, Director of Spiritual Development at dsd@usguu.org.

Mindfulness Meditation with Rev. Kent
Come together to sit, move, or lie down to meditate, mostly in silence. Jon Kabat-Zinn defined mindfulness as "paying attention in a particular way: on purpose, in the present moment, and non-judgmentally." With the goal of engaging in mindfulness, Kent will provide basic guidance for paying attention to breath, or sound, or simple body movements. The documented health benefits of mindfulness for body, mind and spirit are irrefutable and wonderful. Come on in to pay attention.Thursdays 5:30-6:15pm. Sullivan Chapel 3.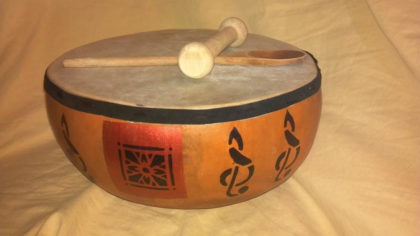 New Intergen Drumming Circle
Wednesdays, 6:30pm in the Sanctuary
All ages welcome!
Exploring Elderhood
This program meets on the second Friday of each month at 2PM in the USG Assembly Room. Its purpose is to celebrate the path, with emphasis on the spiritual path, of all who are aging (that's all of us!) but especially those who consider themselves Elders (or wannabe Elders) and is open USG members, guest and visitors with no minimum age requirement
Each month a team of Exploring Elderhood members prepare and present a program on a relevant topic and after initial presentation there is generally a time for small group discussions and then a reconvening to share experiences. Each session is also followed by a potluck TGIF with wine and cheese, tea and crumpets and such. At all times our goal is to accentuate the positive and have fun together as we share our journeys into the second act of life! And we do!
For more information contact Gerry Whelan at gwhelanmd@gmail.com or visit and join our Facebook page, just search Exploring Elderhood @ USG.
Examining White Privilege
Our next session will be November 12 from 12-2pm. This session will focus on White Fragility, a term created by Robin D'Angelo. She writes: "White people in North America live in a social environment that protects and insulates them from race-based stress. This insulated environment of racial protection builds white expectations for racial comfort while at the same time lowering the ability to tolerate racial stress, leading to what I refer to as White Fragility. White Fragility is a state in which even a minimum amount of racial stress becomes intolerable, triggering a range of defensive moves. These moves include the outward display of emotions such as anger, fear, and guilt, and behaviors such as argumentation, silence, and leaving the stress-inducing situation. These behaviors, in turn, function to reinstate white racial equilibrium." In order to end racism, we need to be able to talk about it. Please join us as we continue this journey.
White Privilege conversations are facilitated by Eli Scearce, Gail Mershon, Sandy Campbell and Treva Burger. They are Adult Spiritual Development offered in the education arm of the Ending Racism Committee.
The books will be available for sale at cost at the Ending Racism table or you can find them wherever books are sold or at the public library.
An Introduction to Mindfulness Based Stress Reduction
This course was offered this fall.

Based on the MBSR curriculum that has been the initial gateway into regular meditation practice for so many people, this accelerated course gave participants the tools and techniques to begin their own practice of insight meditation based on following the breath and opening to sensations and sound. It was directed primarily at those who were interested in beginning a practice, but was also a valuable resource for those who have begun but would profit from some more direction and guidance.
Co-sponsored by the Springboard Mediation Sangha and led by Deborah Cooper, an experienced MBSR teacher. There was no formal fee but a donation of $60 for the entire course was suggested.
Moses, Isaiah, Jesus and Paul
Exploring Our Judeo/Christian Roots
This fall there was also a course on the Psalms, Isaiah, Jesus and Paul. Exploring our Judeo/Christian Roots which will offer UUs the opportunity to see how our current Unitarian/Universalism has been influenced by the primary western religious traditions before it.
Community Day
Community Days are held twice a year in the Fall and Spring. The next Community Day will be on Sunday, November 19, 2017. Click the link for details.
The day begins with a choice of several workshops presenting different modes of spiritual practice. In the past we have offered workshops on meditation, yoga, drumming, chanting, dance, poetry and a chance to sing in The Wannabe Choir. There are also programs for youth of all ages and childcare. See link above for details about this years' event.
Following the workshops there is an intergenerational worship service in the Sanctuary where many of the components of the workshops, including performance by the Wannabe Choir, are integrated into the service. In November, Bread Communion Sunday, which has traditionally been observed the Sunday before Thanksgiving, will also be included in the Service.
Community Day appropriately concludes with a communal brunch when all are invited to partake of a scrumptious feast.
For more information contact Gerry Whelan at gwhelanmd@gmail.com
Unitarian Universalism 101
Gale Gibbons & Andi Bernstein Second Sundays 9am – 10:15am, USG An introduction to Unitarian Universalism for visitors and new members. It is held on the second Sunday of each month in the Sullivan Chapel. Childcare is provided. Attendees will receive a free copy of The Unitarian Universalist Pocket Guide. This class will only be held if the leaders receive rsvps by the Friday before the class. For more information or to RSVP, contact Gale Gibbons (gigi3318@gmail.com) or Andi Bernstein (215-327-7122) or email (uu101@usguu.org).
There are also a number of online classes offered through the UU Leadership Institute. The courses can be completed online on your own schedule while wearing your PJs. The cost is only $30. They are offered Fall, Winter/Spring and Summer. Highlight the Online Courses menu to see which classes are currently offered.
Sunday Morning Meditation Group
Welcoming space for meditation is available every Sunday at USG from 9:15 to 10:15 in Sullivan Chapel or the Grove. On the first two Sundays of the month there may be guided meditations, meditations on readings, walking meditations, silent meditations or whatever those in attendance prefer. On the other Sundays the space is open for those who choose to just come and sit. Beginners as well as experienced meditators are always welcome. Note the announcements in the weekly order of service or contact Sharon Mafuru at smallaxetz@gmail.com
The Caregiver Support Group provides a safe space where caregivers can make connections with others facing similar challenges, share their experiences and ideas, and provide emotional support to one another. Participants include individuals who provide various levels and types of care for partners, parents, and grandchildren. The group meets monthly at USG. Group size is limited. For information, contact Delores Hill at hillott@comcast.net
Bring Your Own Spirituality!
Is there a topic that you have been hoping would be offered in an ASD course? Is there an issue relating to the spiritual journey that you would like to explore? Do you have an interest in a spiritual teacher, resource or practice that you would like to share with others? Now, here is your chance! The BYOS program invites you to name and briefly describe what it is that you would like to explore, discuss, share, or even argue about. We will provide a simple form on which you can name it, briefly describe it and tell how you'd like to approach it. Maybe you would like to discuss the teachings of Eckhart Tolle or explore the Enneagram or talk about Chicken Soup for the Soul or share the poetry of Mary Oliver. You provide your name and contact information. This will be posted on a board that will be prominently placed in the hospitality area every Sunday. Then USG folks and even visitors can peruse the board and others who may share your interest can add their names and contact information. If you have even a few takers, ASD will assist you in setting up an initial get-together. Then your little group will take it from there, deciding where, when and how often to meet. If ASD can help in any way, we will, otherwise we will only ask for some feedback as your group progresses or finishes. So no more complaining that you don't see what you want. BYOS puts you in the driver's seat for your spiritual journey. Come on, it's your turn! Blank forms will be on the board starting with the ASD Faire and every Sunday after that. Questions or comments? gwhelanmd@gmail.com
The Elders Storytelling Circle
This Elders Storytelling Circle is a joint project between Adult Spiritual Development (ASD) and Children's Spiritual Development (CSD). Through the storytelling workshop, elders will be given the opportunity to reflect on their lives and choose significant moments that could be shared with others. Workshop participants will then be given support in developing these stories into tales that will be told to the children in our congregation. One storyteller will be brought into the 3rd-6th grade class per month for the duration of the program year. The purpose of such a storyteller's circle is to link the elders with the young people in our community. In other words, the storytelling format acts as a vehicle so that the children in our community can begin to form meaningful relationships with those grandparent-aged folk who can teach them a thing or two. But again, it is not primarily about imparting knowledge. Building relationships is at the core of this project. An initial group has been asked to establish this workshop. In time, it will be open to any grandparent-aged elder in our community who wishes to participate.
If you have questions about ASD courses and programs, please contact Gerry Whelan, ASD Committee Chair gwhelanmd@gmail.com. Other questions related to Spiritual Development at USG can be directed to Jason Bender at dsd@usguu.org.
New ideas and suggestions are always welcomed. Just follow this link.